RECENT PUBLICATIONS ON THE MALDIVES
Announcing three new publications on the Maldives by members of the MAHS Team.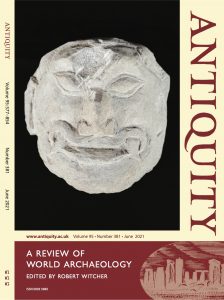 Michael Feener, Patrick Daly, Michael Frachetti, Ibrahim Mujah, Maida Irawani, Jovial Pally Taran, Ahmad Zaki, Fathimath Maasa, Mohamed Shamran, Multia Zahara, Mariyam Isha Azees, Krisztina Baranyai, Paula Levick, Hala Bakheit, Jessica Rahardjo, and Gabriel Clark, "The Maldives Heritage Survey," Antiquity 95.381 (June 2021): https://doi.org/10.15184/aqy.2021.45
The Maldives Heritage Survey (MHS) was the pilot project that proceeded our work on the MAHS. It established the field methodology and open-access online archive structure that we have further developed now for expansion to incorporate new material from other countries historically connected through circulations of commerce and culture across maritime Southern Asia, including Sri Lanka, Indonesia, Brunei and Vietnam.
Over two-and-a-half years, The MHS worked to systematically inventory and digitally document endangered tangible cultural heritage in the Maldives. The MHS Field Team moved systematically from island to island across five atolls to identify and document all elements of historic material culture visible within the survey area. This Antiquity project gallery piece presents highlights of our findings from Laamu, Gnaviyani, Seenu, Haa Alifu, and Kaafu atolls.
The cover image of this most recent issue of Antiquity features an image from the Maldives Heritage Survey: A coral stone block carved on one side in the form of a head with a fanged smile. On the reverse is an inscription in Sanskrit that incorporates texts from Vajrayana Buddhist mantras. It was discovered on the island of Gan in Laamu Atoll in an area near the ruins of a Buddhist ritual site at Kuruhinna, and likely dates to the late first millennium CE. The object has been damaged with scrapes to forehead and the bridge of the nose by a local construction crew who accidentally unearthed the object in July 2018. The Maldives Heritage Survey (MHS) field team was working on a nearby island at the time, and was able to document the object on site before facilitating its transfer to the Maldives National Museum in Malé.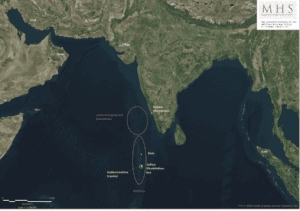 Michael Feener, "Maldives", in: Encyclopaedia of Islam, THREE, Edited by: Kate Fleet, Gudrun Krämer, Denis Matringe, John Nawas, Everett Rowson. First published online: 2020. First print edition: Brill, 2021. 9789004435957, 20210501, 2021-3
The Encyclopaedia of Islam is the leading internationally recognized standard work of reference for Islamic Studies and related fields. The Third Edition of the EI includes an entirely new entry on the Maldives, over twice the length of that in the previous edition and incorporating new source material made available through the work of our project. This new entry includes sections on the pre-Islamic history of the islands, the Dhivehi language, Islamization, European interventions, networks of Sufism and Shafi'i jurisprudence, and modernizing transformation of the twentieth and twenty-first centuries.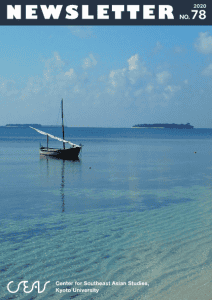 The last piece is a short overview of the pilot phase of this project, illustrated with photos of the Maldives Heritage Survey Field Team at work.
Download the full texts of all three articles from the MAHS Virtual Library:
"The Maldives Heritage Survey," Antiquity
"Maldives", in: Encyclopaedia of Islam, THREE