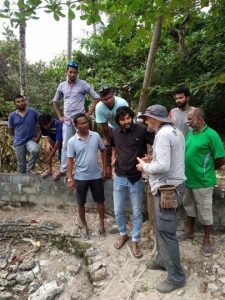 The Maldives Heritage Survey team is currently working on the island of Kaashidhoo in Malé Atoll. There we are clearing and digitally documenting the ruins of a large pre-Islamic site, as well as the ruined fragments of an earlier coral stone mosque and ornamented gravestones in its surrounding cemetery.
The MHS will be working closely with Maldives Ministry of Arts, Culture and Heritage and the Kaashidhoo Island Council, as well as other government agencies and the broader community to digitally document
these sites, and to help all stakeholders develop better heritage management plans for the future.
02 February 2019