MAHS MALDIVES FIELD TEAM AT WORK
The MAHS Maldives Field Team has been adjusting to the ongoing pandemic and travel restrictions over recent months by shifting focus to the documentation of artefacts and manuscripts in collections in Malé.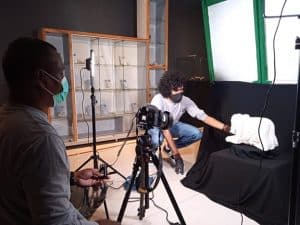 The MAHS Maldives Field Team photo documenting an object from the collections of the National Museum
A particular focus of this work has been at the Maldives National Museum, where the team has documented a number of pieces through systematic description, measurements, and photography used for both standard database record images as well as for photogrammetric visualizations in 3D models available which can be viewed on the MAHS website.
One highlight of their recent work there has been the documentation of the hirigalun hadhafaiva firihen geri, a coral stone image of cow recovered from Kuramathi in North Ari Atoll, an island that is home to a pre-Islamic artificial mound site (havitha). This rare depiction of an animal in Maldivian art was one of the objects damaged in the 2012 vandalism of the National Museum in Malé.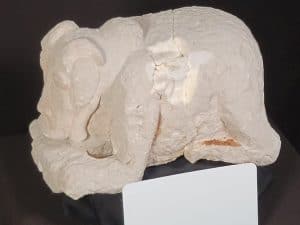 Pre-Islamic animal figure showing signs of damage inflicted during an incident of vandalism in 2012
In addition to coral stone objects, the MAHS Maldives Field Team has also been working to digitize manuscripts from the National Museum, National Archives, and private collections. Highlights of their work on this include an early Qur'an mushhaf and a Dhivehi-language manual of traditional medicine.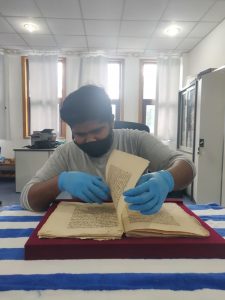 Reviewing a manuscript in preparation for digitization
When conditions have permitted, the Team has also taken advantage of opportunities to continue with field documentation of historical sites in the national capital, including the Zikra mosque and the Usgekolhu, a building formerly part of the palace complex and now part of Sultan Park in Malé. The team hopes to resume work on a number of other sites soon, conditions permitting.
To follow us as our work progresses please email us at MAHSociety@cseas.kyoto-u.ac.jp to be added to our email list, or subscribe to any of our social media accounts: Twitter, Instagram, Facebook (links at the bottom of this page).